Safety Testimonials | First Aid Instructors | Medical Supplies
---
---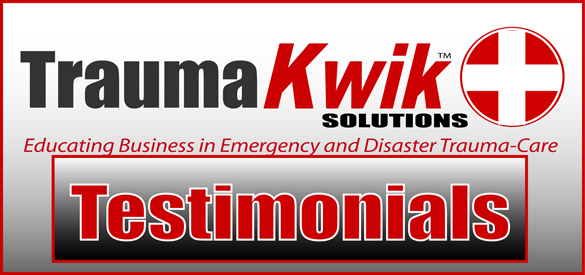 ---
---
---
---
Tyler Sumner - Hunter

"I am an avid hunter, and as safe as I am, I know that accidents CAN happen. With that in mind, I have the new trauma Kit from TraumaKwik with us at all times. It is designed to help in the most traumatic of times, when things have gone from bad to worse. I am confident that I can help anyone in those trying times. Solid!"
---
Susan Buckle - 4th Grade Teacher

"If an emergency should happen at m y school that would necessitate the use of a trauma kit, I now have the basic skills and life-saving supplies to provide assistance until professional care can be administered. Thank you TraumaKwik!"
---
---
---