About Us | About Trauma Kwik | About Us Page
---
---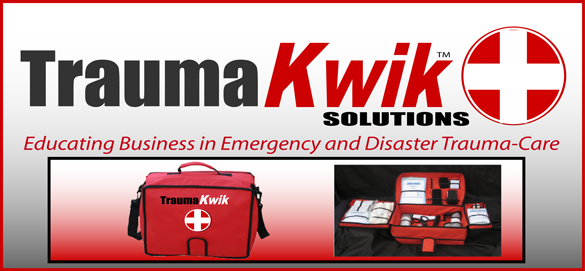 ---
---
---
---
TraumaKwik is dedicated to bringing new and innovative life-saving Techniques, Training, and Tools to as many people as possible. Our first-aid Programs include innovative, patented tools that are effective and easy to use with hands-on training that is fun, informative, and life-changing. Our classes, along with the ABS1 TraumaKit, will empower every-day people with the confidence needed to meet traumatic medical emergencies and save lives at home and in the workplace when professional help may be delayed. Employers will enjoy a safer environment, be able meet ever-tightening OSHA standards, and have more confident employees.
All of our courses are designed to meet National Standards and Protocols for Disaster and Emergency Medical Care, CPR, and CCR (Chest only CPR)
To get started on a Program for your business, call us today at:
(623) 295-9520
---
---
Who Are We?
---
---
---

Michael Ritchey – Co-Founder

Business

Business Owner 34 years

Fire Service

City of Chandler – Captain Volunteer Firefighter and EMT

CERT (Community Emergency Response Team)

CERT certified City of Tempe 6 years

CERT Instructor 3 years (FEMA)

Inventor

3 U.S. Patents (Recreational, Camping)

3 Pending U.S. Patents (Medical)

---

---

Stan Villalobos – Co-Founder

Business

Electrician 25 years

Business Owner 5 years

CERT (Community Emergency Response Team)

CERT certified City of Tempe 6 years

CERT Instructor 3 years (FEMA)

Inventor

3 Pending U.S. Patents (Medical)

---
---

---

Michael Reichling – Director of Training

State Fire Marshal 20+ years Deputy Fire Marshal

City of Tempe FD 11 years Senior Fire Investigator/Inspector

Pine-Strawberry FD Current Fire Marshal

EMT Goodyear FD 2 years

Military

Lieutenant Colonel Army National Guard 35 years

Commander Desert Storm Combat Life Saver

Emergency Management Responder City of Tempe 11 years

CERT Program Manager 11 years FEMA

CERT Train the Trainer Instructor 8 years FEMA

Emergency Schools Planning Instructor 15 years FEMA

---

---